Use these 3 steps to get more respect and love from your Jack Russell
Your Jack Russell needs respect and space
For better or worse, Jack Russell terriers have a reputation for an energetic temperament. Sadly, the owners can exacerbate negative behaviours inadvertently.
If your Jack Russell terrier growls at you or your family a lot, or is generally quite grumpy and agitated on most days, maybe it's a good time to look at what causes that kind of behaviour and temperament.
The answer usually lies in respect and space. While Jack Russells are small and cute creatures, no dog enjoys being excessively fondled, cuddled, and picked up ten times every few hours.
Have you subscribed to my newsletter yet? Just enter your email and click "Sign me up!"
Affection and positive reinforcement when your Jack Russell terrier shows good behaviour is absolutely recommended, but it's important to set limits and understand how dog and human emotions and behaviour are different.
The three simple steps you can take
I mentioned these steps that Cesar Millan has proposed in my last article on Jack Russell growling, and I think they're sufficiently important as to warrant a separate article, because I myself have found them to be powerful and effective with my own Jack Russell.
If you find your dog to be showing any kind of negative and disrespectful behaviour patterns, follow these rules with your Jack Russell for a whole week, and make sure your family follows them too:
No touch
No talking
No eye contact
This might seem like a strange approach, but it's worked like wonders with my own Jack Russell. The approach might seem a little callous at first, but really it's giving the dog the proper respect that you expect him to return to you.
There's absolutely nothing cruel about a human and a dog sitting in the same room with the television on, with the human not showering the dog with affection in the form of stroking, 'baby talk', and cuddling.
As Cesar Millan puts it, there is an appropriate level of mutual respect in that situation.
It might be difficult at first to put these steps into place, but you'll find over that week (or longer, if required) that your dog starts to gradually respect you more and more.
My own experience with this method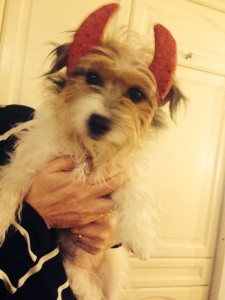 When I used to take my Jack Russell terrier Poppy out for a walk and come back into the house, she wouldn't be happy about coming in, and sometimes express that vocally when taking her lead and collar off.
So for a week I avoided looking her in the eye, or even interacting with her except to feed her and take her out. I was very economical in my interactions with her.
It was hard, as I was used to looking back at Poppy and talking to her. You can talk to other people while around your dog - just don't talk directly at them while looking them in the eye.
The result I found over a week or so was that she would come over to me naturally and sit next me while watching TV or eating meals (although maybe she had an ulterior motive there!). We would just sit there minding our own respective business.
She would also start to respond more acutely to my commands and when I called her name. Best of all, she hasn't growled at me at all since I began using the three steps. I can say with confidence that it worked.
Related posts:
comments powered by

Disqus
Welcome to the Jack Russell Terrier Advice Centre! We have everything you need to make your life easier as you begin raising your new companion.